The French Connection Rosslare situated in the heart of Rosslare Strand and located adjacent to the beautiful beach. Established in 1973 by Noreen Fox. Prior to housing a haven of contemporary styles the building was once a church.
The French Connection Rosslare offers a beautiful selection of women's clothing, footwear and jewellery. A hub for unique style that is both easy to wear and stylish for day-to-day life. We believe in the beauty of everyday and therefore have carefully selected designs from Italy as we believe in style, quality, luxury and design.
We are environmental conscious and want to leave a safe home for the next generation. With this in mind, we dont believe in one use products so all of our packaging will be from boxes we receive in the boutique. After all the magic is inside. Together we can make a big difference.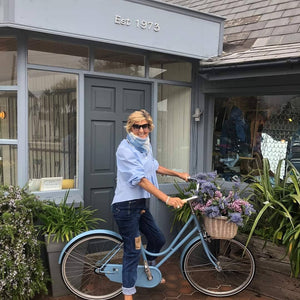 noreen fox
'The French Connection Rosslare founded in 1973 by Noreen Fox has been synonymous with high-end fashion. Labels currently stocked include Wendy Trendy and the primary collection from HIGH By Claire Campbell. HIGH designed in Italy is timeless and can be worn by any age group. The HIGH Collection incorporates function and versatile style. design, comfort and quality.
The French Connection Rosslare has a wonderful mix of contemporary pieces and brands, the collection available are hand-picked and inspired by all corners of the globe, that will suit feminine chic and modern trendsetters alike.
"Stay Safe, Stay Well, Stay Stylish"
—Noreen Fox